Safety nets are the most efficient and cost effective fall protection barrier. Scaffold safety nets are used around the perimeter of the scaffolding to prevent any falls from materials or workers falling off. This not only protects the workers but the material, adjacent buildings and any public passing by.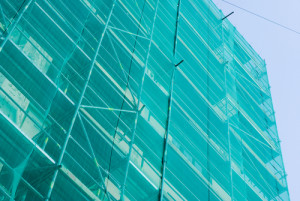 Safety nets mean the workers can work unhindered thus able to move more freely for example it eliminates the need for safety harnesses which can hinder movement and basically just get in the way. Our specialised scaffolding nets can be used around normal scaffolding. For example, our safety nets can be used for maintenance of fragile roofs, skylights, glass atriums, internal voids including steel and metal formwork and bondeck placements and vertical nets for debris protection.
We have available 17,000m2 of commercial netting available. Correct mounting of the safety nets is crucial, if it is mounted incorrectly the netting cannot hold the pressure of the falling person or object and it will all just collapse. Our team are fully qualified and trained to install the nets correctly. They provide regular inspections of the nets to ensure they are still positioned correctly. Our nets are of the highest quality and meet all New Zealand standards in safety. They are 100% recyclable, inert and non-allergic. Cannot be digested by any insect nor do they accumulate static electricity. They have a high resistance to abrasion, and high protection against UV rays. They aren't affected by any acid, are dirt resistant and non-absorbent. They are not necessary to dimensionally stabilise via the thermos fixing of knots, it has no knots so no possibility of knot displacement. Being knotless means when a load lands on our nets the net doesn't tighten which would permanently reduce the amount the net can then absorb in future thus making it safer.
So if you are using scaffolding it is vitally important to get proper safety nets installed. We at sitenets are the "go-to" company for all your needs. Call us today and let us work with you for a safe working environment.