SYSTEMS
–Safety net EN 1263-1
–Use: Horizontal protection (building shafts, industrial warehouses, bridges, etc.).
–With 30 kN border rope.
–Class A2 (Minimum breaking energy 2.3 kJ).
–Dimensions: As necessary (more than 35 square metres)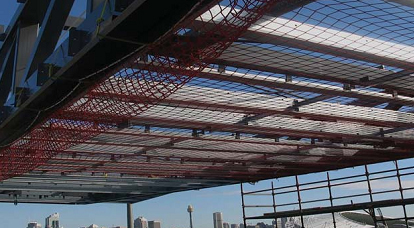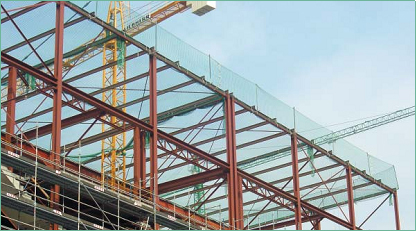 PRINCIPLE COMPONENTS
–THE SAFETY NET:
–Net:With mesh dimensions of 100×100 mm. Manufactured in High Tenacity Polypropylene with anti-solar treatment or in High Tenacity Polyamide.
–Rope/trial mesh:Lodged in the safety net to determine the deterioration due to aging.
–BORDER ROPE:
–Passed through the exterior meshes of the net and tested in accordance with the requisites indicated in the UNE EN 1263-1 standard.
–Minimum breaking load 30kN.
AUXILIARY COMPONENTS
–TYING ROPE:
–Objective: Attach the net to the structure of the work
–Minimum breaking load: 30 kN or 15 kN (double strand)
–JOINING OR SEWING ROPE:
–Objective:Joining together of nets
–Approx. Diameter: 6 mm
–Minimum breaking load: 7.5 kN
–OTHER COMPONENTS:
–Steel cables:Minimum break load: 50 kN.
–Carabiners: Minimum break load: 20 kN.
–Fastening hooks
GOLD LINE
–Raw material:High tenacity polypropylene
–Mesh:100 x 100 mm
–Density:0.9



REF
ARRANGEMENT
COLOURS
CERTIFICATE NO.
CERTIFIED BY
44445010000
Square
White
044/0016
AENOR
45445010010
Diamond
White
044/0016
AENOR
44445010002
Square
Green
044/0016
AENOR
00100003
GS
45445010012
Diamond
Green
044/0016
AENOR
44445010003
Square
Blue
044/0016
AENOR
45445010018
Diamond
Blue
044/0016
AENOR
44445010004
Square
Red
044/0016
AENOR
45446010004
Diamond
Red
044/0016
AENOR
Other colours on request table p. 31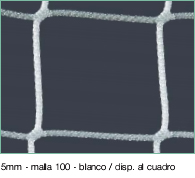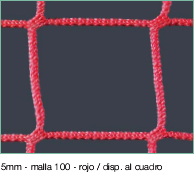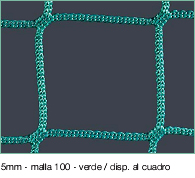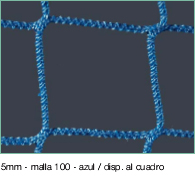 CLASSIC LINE
–Raw material: High tenacity polyamide
–Mesh: 100 x 100 mm
–Density: 1.14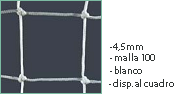 | REF | ARRANGEMENT | COLOUR | CERTIFICATE NO. | CERTIFIED BY |
| --- | --- | --- | --- | --- |
| 44015010000 | Square | White | 044/0013 – 99100003 | AENOR – BG |
| 45014510018 | Diamond | White | 044/0013 | AENOR – BG |