AUXILIARY COMPONENTS AND INSTALLATION
Sitenets Ltd provide a wide range of safety netting solutions. Whether you need netting for residential, commercial or leisure purposes, we have a wide range of nets to suit all needs. See our categories below for the classification of net that you need and find the solution you are looking for.
RINGED CORDS
–Connection element
–Raw Material: High tenacity polypropylene.
–Diameter:16mm
–Configuration: Twisted
–Separation between rings: 1 /1.5m.
REF.
LENGTH
(MM)
70021001600
10
70021501600
15
70022001600
20
| REF. | LENGTH (MM) |
| --- | --- |
| 70022500000 | 25 |
| 70023000000 | 30 |
| 70023500000 | 35 |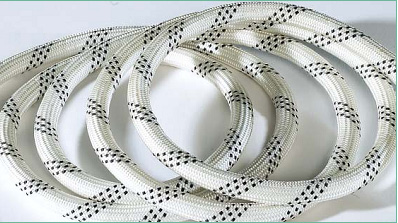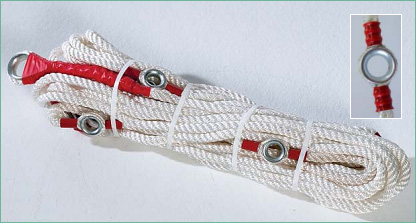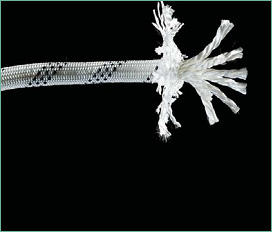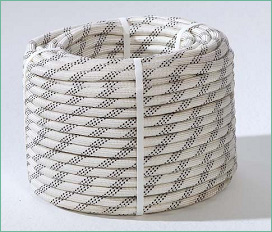 LOW STRETCH KERNMANTELROPE EN 1891
–Function: To prevent falls from high places
–Raw material: High tenacity polyamide
–Diameter:11mm
–Configuration: Braided

CORDAGE
| REF | ARTICLE | RAW MATERIAL | CONFIGURATION | LENGTH | DIAMETER (mm) |
| --- | --- | --- | --- | --- | --- |
| 70021000000 | Tie cord M EN 1263-1 30 KN | Polyamide | Twisted | 100 | 12 |
| 70421020000 | Tie cord G EN 1263-1 20 KN | Polypropylene | Twisted | 100 | 12 |
| 70425000000 | Tie cord Z EN 1263-1 15 KN | Polypropylene | Twisted | 100 | 10 |
| 70425001000 | Tie cord Z EN 1263-1 15 KN | Polypropylene | Braided | 100 | 10 |
| 70025000000 | Coupling cord O EN 1263-1 7.5 KN | Polyamide | Braided | 100 | 7 |
| 70014500100 | 4.5 mm cord | Polyamide | Braided | 100 | 4,5 |
| 70421400002 | 14 mm cord | Polyamide | Twisted | 100 | 14 |
| 70412000000 | 2 mm reopening cord | Polypropylene | Twisted | 100 | 2 |
| 70016000100 | 6 mm cord | Polypropylene | Twisted | 100 | 6 |
| 70428000000 | 8 mm cord | Polypropylene | Twisted | 100 | 8 |
| 70425000114 | 10 mm cord | Polypropylene | Twisted | 100 | 10 |
| 70042140100 | 10 mm cord | Raffia | Twisted | 100 | 12 |
| 70421400000 | 14 mm cord | Polypropylene | Twisted | 100 | 14 |
| 70421600000 | 16 mm cord | Polypropylene | Twisted | 100 | 16 |