Sitenets took on a slightly different side adventure in 2016. We sponsored a highly talented young racecar driver – Trey Nairn. Being just a young 16 year old, Trey has an impressive line up of accolades from KartSport NZ and in 2015 moved into race cars.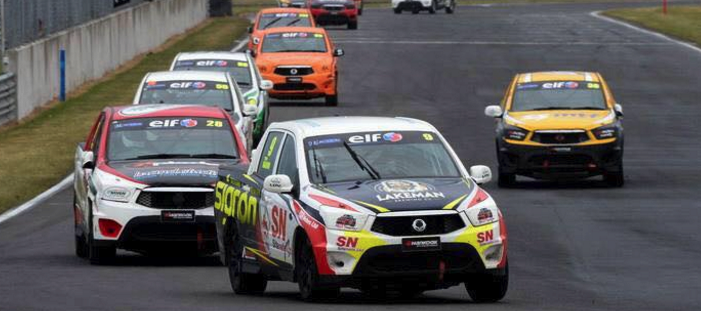 Early November 2016 saw Trey take to the wheel at the SSangyong Actyon Ute Series Race in Pukekohe.
The Ssangyong Actyon Ute Series is a race series different to others available for up and coming race talent. For one, all utes on the track are the same make and model. This allows the drivers to really push their skillsets and win based on talent alone and not the differences in the vehicles.
Up and coming drivers are able to make their way up the motor racing ladder achieving recognised results in a highly competitive environment. They are able to hone their skills and enjoy their time on the track. Unlike other grassroot events, the Ssangyong Actyon Races are televised.
The race on November 4 wasn't without its fair share of carnage. A wet track and some oversteering saw a hard hit on the track and debris across the track. Up against the other drivers Trey took an impressive 10th place.
So is there any relevance to Safety Nets and sponsoring a driver? Well of course! Current code of practice within NASCAR is that all cars must have a nylon window net to protect the driver from flying debris and to contain the driver's arms during a crash. In the unfortunate event of a crash, the drivers are instructed to lower the window net to signify that they are uninjured.
Final laps Race three Pukakoe 6.11.16
Although the Ssangyong Actyon Race wasn't NASCAR safety is still paramount. Window nets weren't a requisite in the Pukekohe race however they do provide extra protection. When racing and someone loses control the subsequent carnage caused by the car hitting the walls or other drivers careering into the stricken car can create a wave of broken glass, metal and other debris to fly out across the track and towards the spectators. Having a debris net around the track would give added comfort to spectators knowing that if there is a crash any flying debris would be captured.
Safety nets have a range of uses and do not have to be restricted to a construction site installation. A safety net is a net used to protect people. This can be from injury after falling from heights by limiting the distance they fall, or a safety net can also be a device used to capture flying objects for the safety of people beyond or below the net.
Sitenets Ltd have a wide range of safety nets available to cater for any need – be it commercial, residential or leisure. All of our nets meet current safety guidelines. We are supported by nearly 35 years as a manufacturer of high quality safety nets. Our history has been marked by the constant innovation and the commitment to those who have come to rely on our networks over the last decades.
The philosophy of our company has always aimed at providing the market with the highest quality networks. We understand the importance of safety, both in industry and in construction.
And that is why Sitenets LTD nets have always been subject to more stringent tests to ensure maximum safety at all times. In the sporting goods market, our nets are synonymous with leadership. The high level of performance of the nets has won international recognition and trust of some of the largest global events in the world of sport.