When you are constructing a building many people just think of ringing a building company and that's that.  Not many people realise just how many different jobs it takes and how many different people to construct a building.  For example the list of people needed to fully construct a building are as follows: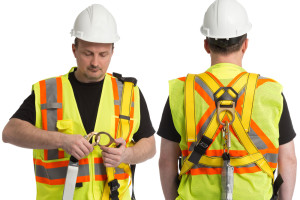 Roofers
Spouting Installers
Solar heating installers
Carpenter
Carpet Layer
Electrician
Linemen
Glazier
Fencer
Heavy equipment Operator
Laborer
Landscaper
Decorator
House painter
Plasterer
Plumber
Pile driver
The list goes on and on. Safety of the workers should be paramount as there are far too many accidents on building sites.  Things that need to be considered are
Edge protection
Height Safety
Inspections
Prevention Plans
Proper Training
Proper Equipment such as hard hats and gloves
Construction site manager
Unfortunately falls from heights are still the leading cause of injury in the construction industry.  There should be safety systems in place no matter what height you work at as even a fall from a relatively small height can cause severe injury or death. Following is a list of things that should be in place when working at height.
Scaffolding
Harness systems
Appropriate ladders
Safety nets
Appropriate attire
Safety Mesh
Balustrade
Guardrail
Mechanical access plant
Mobile Elevating Work Platforms
Forklift Platforms
Crane Lift Platforms
Crane Lift Platforms
As we can see by this article constructing a building is more complicated than it seems.  There is much more involved and much more that needs to at least be considered.